Volume 36 | Number 1 | March 2023
SUPPLEMENT • Frontiers in Ocean Observing: Emerging Technologies for Understanding and Managing a Changing Ocean
On the Cover: A depiction of some of the many platforms that scientists use to sample and sense the ocean, including (from left to right) moorings, autonomous underwater vehicles, CTD rosettes, and towed vehicles (not to scale). See Govindarajan et al. (2023, in this supplement) to read about how these platforms can be used to sample environmental DNA for studies of the mesopelagic ocean. Illustration by Natalie Renier, Woods Hole Oceanographic Institution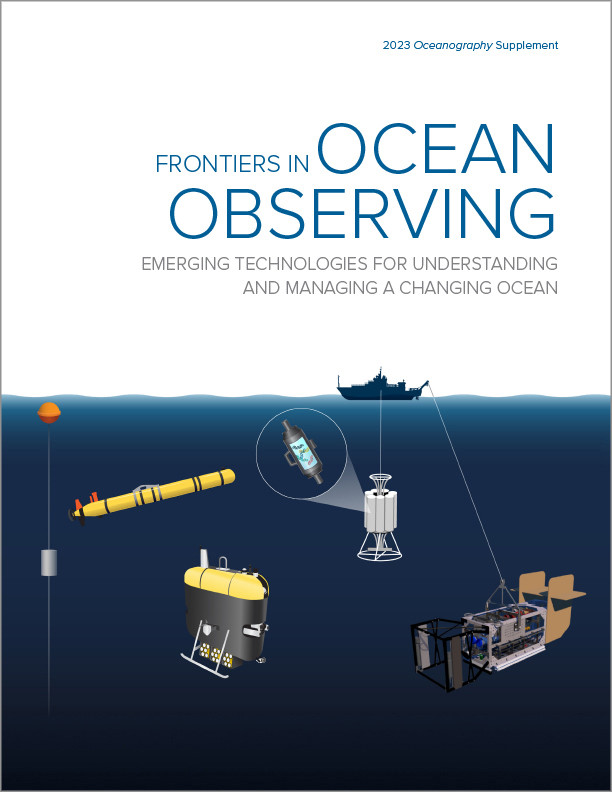 About
ABOUT THE SUPPLEMENT
Articles in this second Frontiers in Ocean Observing supplement to Oceanography describe new technologies and reveal some exciting results that advance our understanding of the world ocean and its resources and support its sustainable use and management. Topics covered in the supplement align with the priorities of the UN Decade of Ocean Science for Sustainable Development (2021–2030) in the following areas: Ocean-Climate Nexus, Ecosystems and Their Diversity, Ocean Pollution, Multi-Hazard Warning Systems, and Technology. We hope that you enjoy this supplement and share it widely.
PREFERRED CITATION
Kappel, E.S., V. Cullen, M.J. Costello, L. Galgani, C. Gordó-Vilaseca, A. Govindarajan, S. Kouhi, C. Lavin, L. McCartin, J.D. Müller, B. Pirenne, T. Tanhua, Q. Zhao, and S. Zhao, eds. 2023. Frontiers in Ocean Observing: Emerging Technologies for Understanding and Managing a Changing Ocean. Oceanography 36(Supplement 1), https://doi.org/10.5670/oceanog.2023.s1.
Special Issue Guest Editors
Ocean-Climate Nexus: Observations for Marine Carbon Dioxide Removal
• Jens D. Müller, ETH Zürich
• Toste Tanhua, GEOMAR Helmholtz Center for Ocean Research Kiel
Ecosystems and Their Diversity: Patterns and Trends in Ocean Biodiversity Under Climate Change
• Mark J. Costello, Nord University
• Qianshuo Zhao, Ocean University of China, Qingdao
• Charles Lavin, Nord University
• Cesc Gordó-Vilaseca, Nord University
Ocean Pollutants: Assessing the Damage Caused by Marine Plastic Pollution
• Luisa Galgani, GEOMAR Helmholtz Center for Ocean Research Kiel
• Shiye Zhao, Japan Agency for Marine-Earth Science and Technology
Multi-Hazard Warning Systems: Ocean Observations for Coastal Hazard Warning
• Soroush Kouhi, Ocean Networks Canada
• Benoît Pirenne, Ocean Networks Canada
Technology: Environmental DNA
• Annette Govindarajan, Woods Hole Oceanographic Institution
• Luke McCartin, Lehigh University