Volume 34 | Number 4 | December 2021
SUPPLEMENT • Frontiers in Ocean Observing: Documenting Ecosystems, Understanding Environmental Changes, Forecasting Hazards
On the Cover: Developed by scientists at the Institute for Chemistry and Biology of the Marine Environment, University of Oldenburg, the Sea Surface Scanner (S3) is a radio-controlled catamaran designed to detect biogenic and ubiquitous surface films called the sea surface microlayer (SML). The SML is typically less than 1 mm thick and controls air-sea interactions due to its unique biogeochemical properties relative to the underlying water. S3 uses a set of partially submerged glass disks that continuously rotate through the sea surface, skimming and wiping the SML from the disks. The principle of this collection technique was developed several decades ago. The continuous sample stream is diverted to a set of onboard flow-through sensors (e.g., temperature, conductivity, fluorescence, pH, pCO2) and to a bottle carousel triggered by a command from the pilot. S3 is capable of mapping the SML with high temporal and spatial resolution and collecting large amounts of samples for broader biogeochemical assessment of the SML. Since 2015, S3 has been deployed in the Indian, Pacific, and Atlantic Oceans, including in open leads near the North Pole, providing a unique large data set of biogeochemical features of the ocean's surface. Photo credit: Alex Ingle/Schmidt Ocean Institute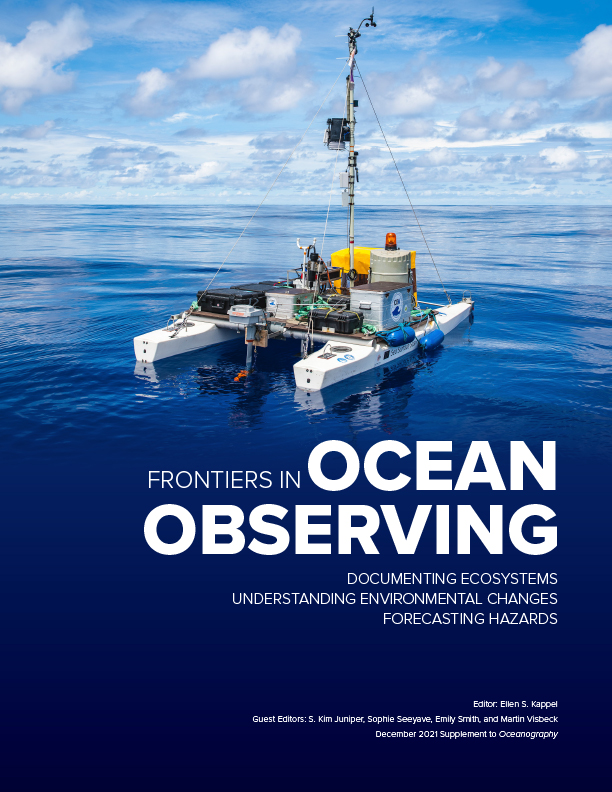 About
ABOUT THE SUPPLEMENT
Articles in this inaugural Frontiers in Ocean Observing supplement to Oceanography describe new technologies and reveal some exciting results that advance our understanding of the world ocean and its resources and support its sustainable use and management. Topics covered in the supplement align with the priorities of the UN Decade of Ocean Science for Sustainable Development (2021–2030) in the following areas: (1) Ocean-Climate Nexus, (2) Ecosystems and Their Diversity, (3) Ocean Resources and the Economy Under Changing Environmental Conditions, (4) Pollutants and Contaminants and Their Potential Impacts on Human Health and Ecosystems, and (5) Multi-Hazard Warning Systems. The sixth and closing chapter describes several exciting new ocean observing technologies. We hope that you enjoy this supplement and share it widely.
PREFERRED CITATION
Kappel, E.S., S.K. Juniper, S. Seeyave, E. Smith, and M. Visbeck, eds. 2021. Frontiers in Ocean Observing: Documenting Ecosystems, Understanding Environmental Changes, Forecasting Hazards. A Supplement to Oceanography 34(4), 102 pp., https://doi.org/10.5670/oceanog.2021.supplement.02.
Special Issue Guest Editors
EDITOR
• Ellen S. Kappel, Geosciences Professional Services Inc.
GUEST EDITORS
• S. Kim Juniper, Ocean Networks Canada
• Sophie Seeyave, Partnership for Observation of the Global Ocean
• Emily A. Smith, NOAA Global Ocean Monitoring and Observing Program
• Martin Visbeck, GEOMAR Helmholtz Centre for Ocean Research