Volume 32 | Number 2 | June 2019
Special Issue on SPURS-2: Salinity Processes in the Upper-Ocean Regional Study 2
On the Cover: A montage of photos from the SPURS-2 field program (courtesy of Eric Lindstrom, NASA Headquarters) and SMAP RSS V3.0 L2 sea surface salinity data for September 2017 (Meissner et al., 2018, https://doi.org/​10.3390/rs10071121) combined with the NASA Blue Marble Next Generation for land cover (Reto Stöckli, NASA Earth Observatory). Areas close to land are interpolated for aesthetic purposes.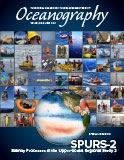 BREAKING WAVES
Rapid Climate-Driven Circulation Changes Threaten Conservation of Endangered North Atlantic Right Whales
Record, N.R., J.A. Runge, D.E. Pendleton, W.M. Balch, K.T.A. Davies, A.J. Pershing, C.L. Johnson, K. Stamieszkin, R. Ji, Z. Feng, S.D. Kraus, R.D. Kenney, C.A. Hudak, C.A. Mayo, C. Chen, J.E. Salisbury, and C.R.S. Thompson. 2019. Rapid climate-driven circulation changes threaten conservation of endangered North Atlantic right whales. Oceanography 32(2):162–169, https://doi.org/10.5670/oceanog.2019.201.
ROGER REVELLE COMMEMORATIVE LECTURE
Special Issue Guest Editors
James Edson, Woods Hole Oceanographic Institution
Eric Lindstrom, NASA Headquarters
Julian Schanze, Earth & Space Research
Andrey Shcherbina, University of Washington
Sponsors