Volume 23 | Number 1 | March 2010
Special Issue: Mountains in the Sea
On the Cover: The front and back covers depict seven seamounts formed by the Louisville hotspot in the South Pacific that were surveyed during the AMAT02 Expedition in 2006 (Peter Lonsdale, Scripps Institution of Oceanography, chief scientist) using R/V Roger Revelle. As part of the Integrated Ocean Drilling Program (IODP), this site survey provided key data to prepare for IODP Expedition 330 (December 2010) that aims to drill four seamounts in the Louisville seamount trail. Using paleoomagnetic and geochronological data from the drilled basalts, this project attempts to answer the question of whether the deep Hawaiian and Louisville mantle plumes, the two longest-lived primary hotspot systems in the Pacific, have moved in concert or independently.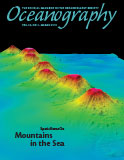 SCIENCE AND POLICY FEATURE
A Very Inconvenient Truth
Greene, C.H., D.J. Baker, and D.H. Miller. 2010. A very inconvenient truth. Oceanography 23(1):214–218, https://doi.org/10.5670/oceanog.2010.98.
Special Issue Guest Editors
Hubert Staudigel, Scripps Institution of Oceanography
Anthony A.P. Koppers, Oregon State University
J. William Lavelle, National Oceanic and Atmospheric Administration
Tony J. Pitcher, University of British Columbia
Timothy M. Shank, Woods Hole Oceanographic Institution
Sponsors
Production of this issue was funded by US National Science Foundation grant OCE-0939834 to The Oceanography Society, and Research Coordination Network grant BIO-0443337 to H. Staudigel (Scripps Institution of Oceanography), and the New Zealand National Institute of Water & Atmospheric Research Ltd.