Volume 34 | Number 2 | June 2021
Special Issue on the Marine Biodiversity Observation Network: An Observing System for Life in the Sea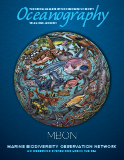 About
The COVID-19 pandemic has caused some delays in posting the full June 2021 issue. We expect to have all remaining articles posted shortly. Please check back again soon.
SPECIAL ISSUE FEATURES
Pelagic Biodiversity, Ecosystem Function, and Services: An Integrated Observing and Modeling Approach
Santora, J.A., I.D. Schroeder, S.J. Bograd, F.P. Chavez, M.A. Cimino, J. Fiechter, E.L. Hazen, M.T. Kavanaugh, M. Messié, R.R. Miller, K.M. Sakuma, W.J. Sydeman, B.K. Wells, and J.C. Field. 2021. Pelagic biodiversity, ecosystem function, and services: An integrated observing and modeling approach. Oceanography 34(2), https://doi.org/10.5670/oceanog.2021.212.