Volume 32 | Number 3 | September 2019
Special Issue on PISCO: Partnership for Interdisciplinary Studies of Coastal Oceans
On the Cover: The Partnership for Interdisciplinary Studies of Coastal Oceans (PISCO) is dedicated to understanding coastal processes in the California Current Large Marine Ecosystem. Consortium research aims to quantify intertidal and subtidal biogeographic patterns of community structure and ecological subsidies, create a mooring network to document inner-shelf oceanic conditions, and conduct coordinated, coast-wide experiments that evaluate variation in ecological processes. (1) Copper rockfish, Sebastes caurinus, (2) researchers in the rocky intertidal zone, (3) Spanish shawl nudibranch, Flabellinopsis iodinea, (4) diver conducting kelp forest surveys, (5) purple urchins, Strongylocentrotus purpuratus, and (6) oceanographers deploying instruments. Credits: Photos 1, 4, and 5: Katie Davis. Photo 2: Heather Fulton-Bennett. Photo 3: Chris Honeyman. Photo 6: Michael Moses.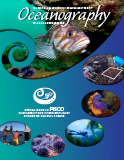 REGULAR ISSUE FEATURES
SIDEBAR • Acoustic Backscatter Patterns
Palter, J., L. Cook, A. Gonçalves Neto, S. Nickford, and D. Bianchi. 2019. Acoustic backscatter patterns. Oceanography 32(3):140–141, https://doi.org/10.5670/oceanog.2019.321.
Special Issue Guest Editors
Heather Leslie, Darling Marine Center & School of Marine Sciences, University of Maine
Mary Ruckelshaus, Stanford University
Jon Witman, Brown University