Volume 22 | Number 3 | September 2009
Special Issue: The Revolution in Global Ocean Forecasting — GODAE: 10 Years of Achievement
On the Cover: Operational oceanography integrates in situ (here, an Argo float) and satellite (here, Jason-1 altimeter satellite) observations with ocean models to describe and forecast the three-dimensional ocean. Courtesy Mercator Ocean.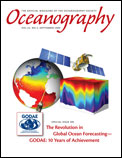 SCIENCE AND POLICY FEATURE
Special Issue Guest Editors
Michael J. Bell, UK Met Office
Pierre-Yves Le Traon, IFREMER
Kristen Wilmer-Becker, UK Met Office
Sponsors
Production of this issue was funded by the National Aeronautics and Space Administration, National Oceanic and Atmospheric Administration, and Office of Naval Research. The results presented in the contributions were made possible by a number of different supporting organizations and agencies and are referenced in individual acknowledgements in each contribution. The views herein are those of the authors and do not necessarily reflect the views of the funding organizations. The authors and guest editors of this issue wish to thank the sponsors for their strong support.