Volume 25 | Number 3 | September 2012
Special Issue: Antarctic Oceanography in a Changing World
On the Cover: FRONT COVER: The photo of Antarctic Research and Supply Vessel Laurence M. Gould (left) and Research Vessel Icebreaker Nathaniel B. Palmer (right) was taken during the 2002 austral winter cruise of the Global Ocean Ecosystem Dynamics (GLOBEC) program, near Adelaide Island in the western Antarctic Peninsula. The Southern Ocean winter field program required both ships. The Palmer would put the Gould into a situation such that the vessel would be stuck in the ice for about a week so that the shipboard scientists could carry out process studies, while scientists on the Palmer went on to carry out large-scale synoptic surveys. The ships were together as in this photo for only a few hours. The photographer, Dan Costa, had to walk onto the sea ice to get this vantage point. BACK COVER: Extent of US Antarctic oceanography based on the historical cruise tracks of RVIB Nathaniel B. Palmer (red) and ARSV Laurence M. Gould (blue).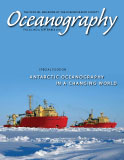 REGULAR ISSUE FEATURES
Exploration of the Deep-Sea Fauna of Papua New Guinea
Pante, E., L. Corbari, J. Thubaut, T.-Y. Chan, R. Mana, M.-C. Boisselier, P. Bouchet, and S. Samadi. 2012. Exploration of the deep-sea fauna of Papua New Guinea. Oceanography 25(3):214–225, https://doi.org/10.5670/oceanog.2012.65.
Special Issue Guest Editors
Hugh Ducklow, Marine Biological Laboratory
Alejandro H. Orsi, Texas A&M University
Julia S. Wellner, University of Houston
Sponsors