Volume 26 | Number 4 | December 2013
Special Issue: US GLOBEC: Understanding Climate Impacts on Ocean Ecosystems
On the Cover: The US GLOBEC Pan-Regional Synthesis program sought to understand, by multi-regional comparative studies, the impacts of global climate variability on marine ecosystems, including the bio-physical mechanisms responsible for observed and potential marine population variability. Several of the study regions are shown; the high-resolution regional windows indicate the locations where retrospective, field sampling, and/or numerical modeling studies were conducted. Cover graphic courtesy of Vincent Combes.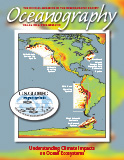 BREAKING WAVES
Warm Arctic, Cold Continents: A Common Pattern Related to Arctic Sea Ice Melt, Snow Advance, and Extreme Winter Weather
Cohen, J., J. Jones, J.C. Furtado, and E. Tziperman. 2013. Warm Arctic, cold continents: A common pattern related to Arctic sea ice melt, snow advance, and extreme winter weather. Oceanography 26(4):150–160, https://doi.org/10.5670/oceanog.2013.70.
Special Issue Guest Editors
Dale Haidvogel, Rutgers University
Eileen Hofmann, Old Dominion University
Claudia Mengelt, The National Academies
Elizabeth Turner, National Oceanic and Atmospheric Administration