Volume 30 | Number 1 | March 2017
Special Issue on International Cooperation in Harmful Algal Bloom Science
On the Cover: Aerial photograph of a Gonyaulax polygramma bloom in False Bay, South Africa, on February 23, 2007. These blooms often lead to hypoxia, triggering marine mortality events. Photo credit: Anthony Allen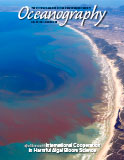 REGULAR ISSUE FEATURES
A Three-Dimensional Mapping of the Ocean Based on Environmental Data
Sayre, R.G., D.J. Wright, S.P. Breyer, K.A. Butler, K. Van Graafeiland, M.J. Costello, P.T. Harris, K.L. Goodin, J.M. Guinotte, Z. Basher, M.T. Kavanaugh, P.N. Halpin, M.E. Monaco, N. Cressie, P. Aniello, C.E. Frye, and D. Stephens. 2017. A three-​dimensional mapping of the ocean based on environmental data. Oceanography 30(1):90–103, https://doi.org/10.5670/oceanog.2017.116.
Special Issue Guest Editors
Raphael Kudela, Univeristy of California, Santa Cruz
Henrik Enevoldsen, Intergovernmental Oceanographic Commission of UNESCO
Ed Urban, Scientific Committee on Ocean Research
Sponsors
Production of this issue of Oceanography was supported by grants OCE-0003700, OCE-0326301, OCE-0608600, OCE-0938349, and OCE-1243377 from the US National Science Foundation to the Scientific Committee on Oceanic Research for GEOHAB activities; the Intergovernmental Oceanographic Commission of UNESCO; and the University of Copenhagen. Additional funds were provided by the Ida Benson Lynn Endowment, University of California Santa Cruz.