Volume 20 | Number 4 | December 2007
Special Issue: Ocean Exploration
On the Cover: The cover showcases a selection of photos and images from this month's special issue features. This selection is emblematic of the exemplary ocean exploration projects and expeditions undertaken during the last several years.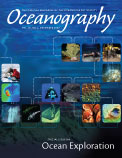 REGULAR ISSUE FEATURES
Broadband, Low-Cost, Coastal Sensor Nets
Fries, D.P., S.Z. Ivanov, P.H. Bhanushali, J.A. Wilson, H.A. Broadbent, and A.C. Sanderson. 2007. Broadband, low-cost, coastal sensor nets. Oceanography 20(4):150–155, https://doi.org/10.5670/oceanog.2007.15.
BREAKING WAVES
Shallow Water '06: A Joint Acoustic Propagation/Nonlinear Internal Wave Physics Experiment
Tang, D., J.N. Moum, J.F. Lynch, P. Abbot, R. Chapman, P.H. Dahl, T.F. Duda, G. Gawarkiewicz, S. Glenn, J.A. Goff, H. Graber, J. Kemp, A. Maffei, J.D. Nash, and A. Newhall. 2007. Shallow Water '06: A joint acoustic propagation/nonlinear internal wave physics experiment. Oceanography 20(4):156–167, https://doi.org/10.5670/oceanog.2007.16.
Special Issue Guest Editors
Stephen R. Hammond, National Oceanic and Atmospheric Administrion
Sponsors
This issue was generously sponsored by the NOAA Office of Ocean Exploration and Research.