Volume 19 | Number 3 | March 2006
Special Issue: The Japan/East Sea
On the Cover: The High Salinity Intermediate Water in the Japan/East Sea, identified as a vertical maximum in salinity, originates from surface waters that are cooled and sink to this depth in the northeastern Japan/East Sea in the general region where salinity is highest in the surface. The shape of the surface is its depth, and the contoured color is the salinity. The data were collected on the R/V Roger Revelle and R/V Professor Kromov in summer 1999, and are described in the article by Talley et al. (this issue). Igor Yashayev produced this figure at the Bedford Institute of Oceanography from data provided by Lynne Talley.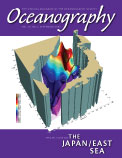 Special Issue Guest Editors
Kenneth H. Brink, Woods Hole Oceanographic Institution
Stephen P. Murray, Office of Naval Reseach
Sponsors
We would like to thank the Office of Naval Research for sponsoring this issue of the magazine.