Volume 21 | Number 4 | December 2008
Special Issue: Coastal Ocean Processes
On the Cover: The cover art transforms an acoustic image of biological response to nonlinear internal waves (Figure 4 in Moum et al., this issue) to represent the suite of processes that may be ubiquitous in the global coastal ocean. CoOP's organizing assumption is that a finite set of dominant processes controls the basic characteristics of all coastal environments. These processes differ in relative importance on a range of temporal and spatial scales, resulting in the observed variability of coastal ecosystems. CoOP's goal has been to promote strategic interdisciplinary, process-oriented research at locations that differ in their relative mix of controlling processes to provide fundamental insights that can be applied to many coastal settings. Artwork by Anna Boyette, Skidaway Institute of Oceanography.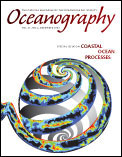 Special Issue Guest Editors
Richard A. Jahnke | Skidaway Institute of Oceanography, Savannah, GA, USA
Deborah B. Jahnke | Skidaway Institute of Oceanography, Savannah, GA, USA
Sponsors
The production of this issue was funded by the National Science Foundation (NSF) through grant number OCE-0301872 to the CoOP Program Office. Research discoveries presented in the contributions were made possible with support from NSF, the Office of Naval Research, and the National Oceanic and Atmospheric Administration, as referenced in individual acknowledgements in each contribution. The views herein are those of the authors and do not necessarily reflect the views of the funding organizations.