Volume 23 | Number 2 | June 2010
Special Issue: Marine Renewable Energy
On the Cover: (front) Offshore wind farms are just one form of marine renewable energy. (back) Ocean energy can also be harnessed from waves, open-ocean currents (sometimes called hydrokinetic), tides, and ocean thermal and salinity gradients. Cover image copyright Cameron Davis/Corbis.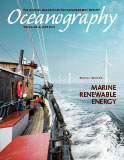 REGULAR ISSUE FEATURES
The Volume of Earth's Ocean
Charette, M.A., and W.H.F. Smith. 2010. The volume of Earth's ocean. Oceanography 23(2):112–114, https://doi.org/10.5670/oceanog.2010.51.
ROGER REVELLE COMMEMORATIVE LECTURE
Special Issue Guest Editors
Elisa Chae, National Oceanic and Atmospheric Administration (NOAA)
Annette von Jouanne, Oregon State University
Ted Brekken, Oregon State University
Ellen Ternes, NOAA
Kerry Kehoe, NOAA
Ralph Lopez, NOAA
Benjamin Baron-Taltre, NOAA
Whitney Blanchard, NOAA
MaryLee Haughwout, NOAA
Carleigh Rodriguez, NOAA
Sponsors