Volume 22 | Number 1 | March 2009
Special Issue: HERMES: Hotspot Ecosystem Research on the Margins of European Seas
On the Cover: Andrea Ulrich and Serafin Pazdera, students in scientific visualization at Zurich University of the Arts produced the artwork featured on this issue's cover. The artwork depicts life at a deep-sea coral reef, created over the duration of two ten-day teaching projects where students worked with HERMES imagery to develop ideas and concepts for the visualization of current scientific knowledge. Their research into images, experiments, and modeling paralleled the scientific research process, inspired by chaotic and random systems, employing speculation, intuition, interpretation, and hypotheses to produce a reconstruction of reality.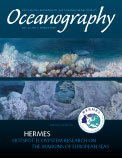 SCIENCE AND POLICY FEATURE
Special Issue Guest Editors
Philip P.E. Weaver, National Oceanography Centre, University of Southampton
Vikki Gunn, National Oceanography Centre, University of Southampton
Sponsors
The HERMES Consortium gratefully acknowledges the European Commission for providing funding and support for the HERMES project (EC contract no. GOCE-CT-2005-511234) under the priority "Sustainable Development, Global Change and Ecosystems" of the EC'S Framework Six Programme.