Volume 24 | Number 1 | March 2011
Special Issue: The Philippine Straits Dynamics Experiment
On the Cover: The complex geography of the islands, seas, and straits of the Philippines Archipelago poses challenges to observation and modeling. The Office of Naval Research sponsored the Philippine Straits Dynamics Experiment (PhilEx) to integrate in situ and remote observations with global and regional models to improve our understanding and predictive skill of archipelago-scale spatial and temporal variability. Front cover photo from iStock; back cover photos courtesy of Leilani Solera.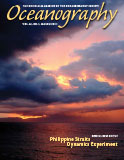 REGULAR ISSUE FEATURES
Does Operational Oceanography Address the Needs of Fisheries and Applied Environmental Scientists
Berx, B., M. Dickey-Collas, M.D. Skogen, Y.-H. De Roeck, H. Klein, R. Barciela, R.M. Forster, E. Dombrowsky, M. Huret, M. Payne, Y. Sagarminaga, and C. Schrum. 2011. Does operational oceanography address the needs of fisheries and applied environmental scientists? Oceanography 24(1):166–171, https://doi.org/10.5670/oceanog.2011.14.
Special Issue Guest Editors
Arnold L. Gordon, Lamont-Doherty Earth Observatory
Cesar L. Villanoy, University of the Philippines Diliman
Sponsors