Volume 22 | Number 2 | June 2009
Special Issue: The Tenth Anniversary of the National Oceanographic Partnership Program
On the Cover: Hurricane Gustav and Tropical Storm Hanna on August 31, 2008, showing the coal trail in sea surface temperature (SST) on the east side of Gustav. Warm SSTs can strengthen hurricanes. The SSTs shown in this image were produced by the National Oceanographic Partnership Program's Multi-Sensor Improved Sea Surface Temperature (MISST) project. Credit: NASA/Goddard Space Flight Center Scientific Visualization Studio.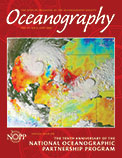 REGULAR ISSUE FEATURES
ROGER REVELLE COMMEMORATIVE LECTURE
Special Issue Guest Editors
Ben Chicoski, Consortium for Ocean Leadership
Sponsors
We would like to thank the National Science Foundation, the National Aeronautics and Space Administration, and the Office of Naval Research for sponsoring this issue of Oceanography.