Volume 18 | Number 3 | September 2005
On the Cover: The research vessel Polarstern approaching HAUSGARTEN, the only deep-sea, long-term station in the Arctic Ocean. See article on p. 47 for details. Photo credit: T. Soltwedel, Alfred Wegener Institute for Polar and Marine Research, Germany.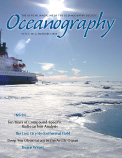 REGULAR ISSUE FEATURES
HAUSGARTEN: Multidisciplinary Investigations at a Deep-Sea, Long-Term Observatory in the Arctic Ocean
Soltwedel, T., E. Bauerfeind, M. Bergmann, N. Budaeva, E. Hoste, N. Jaeckisch, K. von Juterzenka, J. Matthiessen, V. Mokievsky, E.-M. Nöthig, N.-V. Quéric, B. Sablotny, E. Sauter, I. Schewe, B. Urban-Malinga, J. Wegner, M. Wlodarska-Kowalczuk, and M. Klages. 2005. HAUSGARTEN: Multidisciplinary investigations at a deep-sea, long-term observatory in the Arctic Ocean. Oceanography 18(3):46–61, https://doi.org/10.5670/oceanog.2005.24.