Volume 17 | Number 4 | December 2004
Special Issue: Strata Formation on European Margins
On the Cover: Bathymetric image (10 meter resolution, no interpolation) of Cap de Creus Canyon, located in the Mediterranean Sea off northeastern Spain. Multibeam data were collected using the hull-mounted Simrad EM300 aboard Fugro Survey Ltd's M/V Geo Prospector, June 28 to July 1, 2004. Data were collected in collaboration with AOA Geophysics Inc. and the University of Barcelona in support of the EuroSTRATAFORM Project. Depths ranged from 96 meters to 815 meters.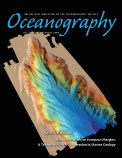 ROGER REVELLE COMMEMORATIVE LECTURE
Abrupt Climate Changes: Oceans, Ice, and Us
Alley, R.B. 2004. The Roger Revelle Commemorative Lecture Series—Abrupt climate changes: Oceans, ice, and us. Oceanography 17(4):194–206, https://doi.org/10.5670/oceanog.2004.20.
Special Issue Guest Editors
James P.M. Syvitski, Institute of Arctic and Alpine Research, University of Colorado, Boulder, USA
Philip P.E. Weaver, Southampton Oceanography Centre, United Kingdom
Serge Berné, Institut français de recherche pour l'exploitation de la mer (IFREMER), France
Charles A. Nittrouer, School of Oceanography, University of Washington, USA
Fabio Trincardi, Istituto di Scienze Marine-Consiglio Nazionale delle Ricerche (ISMAR-CNR), Italy
Miquel Canals, GRC Geociències Marines, Universitat de Barcelona, Spain
Sponsors
We would like to thank the U.S. Office of Naval Research and the European Commission for sponsoring this issue of the magazine.