Volume 18 | Number 4 | December 2005
Special Issue: The Indonesian Seas
On the Cover: Satellite-based data are used to construct the view of sea surface temperature (SST) and surface chlorophyll a for the southeast monsoon months of June through August when winds blow towards Southeast Asia. The lower panel shows the seafloor morphology of the Indonesian seas and the primary pathways followed by the Pacific to Indian Ocean flow—the Indonesian throughflow—as defined by water mass characteristics. Gordon (this issue) discusses these images and provides scale information.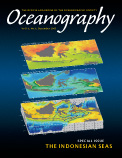 REGULAR ISSUE FEATURES
Special Issue Guest Editors
Arnold L. Gordon, Lamont-Doherty Earth Observatory
Sponsors
We would like to thank the National Aeronautics and Space Administration for sponsoring this issue of the magazine.