Volume 20 | Number 3 | September 2007
Special Issue: Marine Population Connectivity
On the Cover: In the theme of larval dispersal and population connectivity, the cover is a montage of the larval stages of a variety of fish and invertebrate taxa. All were collected int he Straits of Florida during ichthyoplankton sampling efforts with a 4 meter squared MOCNESS. Each specimen was photographed immediately after net retrieval and prior to any preservation to maintain natural coloration. Photo credit: Cedric Guigand, University of Miami.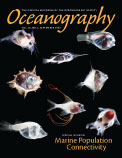 Special Issue Guest Editors
Robert K. Cowen, University of Miami
Sponsors
This issue was generously sponsored by the National Science Foundation Division of Ocean Sciences.