Volume 20 | Number 2 | June 2007
Special Issue: A Sea of Microbes
On the Cover: The genome to biome collage represents the key elements that make up the science of microbial oceanography. Groupings from top to bottom: The genome represents microbial oceanography today and the study of the very language of cells to understand how they have adapted to life in the ocean. The "Sea of Microbes" depicted here in a virus (right, courtesy of John Waterbury), a bacterial assemblage (lower left, courtesy of Stephen Giovannoni), and a microeukaryote (diatom, top, courtesy of Mark Webber in collaboration with Elaine Humphrey) represent the linchpin of the ocean's food web and the top of this special issue. A wide variety of instruments (e.g., top, see p. 77 in this issue) are required to comb the seas for these microbes and to study them in their native habitats. These microbes inhabit diverse environments in the global ocean—represented by the North Pacific Gyre, a coral reef, and a polar ice-covered habitat (courtesy of T. Hollibaugh)—and play crucial roles in the health and functioning of all habitats in the ocean. Behind all of this science are the students and scientists (no shown) who set out to decipher what the microbes have to say and how they will respond to global changes.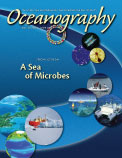 BREAKING WAVES
RAPID: Research on Automated Plankton Identification
By Mark C. Benfield , Philippe Grosjean, Phil F. Culverhouse, Xabier Irigoien, Michael E. Sieracki , Angel Lopez-Urrutia, Hans G. Dam, Qiao Hu, Cabell S. Davis , Allen Hanson, Cynthia H. Pilskaln, Edward M. Riseman, Howard Schultz , Paul E. Utgoff , and Gabriel Gorsky
ROGER REVELLE COMMEMORATIVE LECTURE
Special Issue Guest Editors
Lita M. Proctor, University of California, Santa Cruz
David M. Karl, University of Hawaii
Sponsors
This issue received generous support from the Gordon and Betty Moore Foundation, the Agouron Institute, and the National Science Foundation (EF-0424599).