Electronic Editions

All TOS members receive a printed copy of each issue of Oceanography unless electronic delivery only is specifically requested. You can choose the electronic-only option by updating your TOS member profile or sending a message to [email protected].
Instructions for viewing the electronic editions of Oceanography will be provided to all TOS members via email prior to publication of each issue (March, July, September, and December of each year).
For instant access to individual articles from every issue of Oceanography, please visit: https://tos.org/oceanography/volume


Interactive PDFs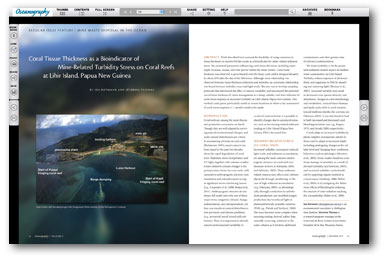 TOS members may view full issues of Oceanography in a web browser or download PDFs by clicking on the appropriate link when you receive an email from TOS (be sure to login using the email address used for TOS membership).
To access electronic versions of Oceanography issues published since 2012, please login and launch any issue from the landing page. Once in the online viewer, click on the ARCHIVE button (file folder icon in the top navigation bar), then click on Older.


iPad and Android Apps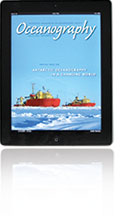 The iPad and Android versions of Oceanography are available to all TOS members as a benefit of membership. Simply follow the directions below to install the Oceanography app. Non-members may purchase individual issues after installing the app.
To download the apps, please follow these steps:
Step 1: Go to the iTunes Store or Android Market and search for Oceanography.
Step 2: Install the free app. Once installed, and login using the email address you use for TOS membership. Contact Jenny ([email protected]) if you are having difficulties.
Step 3: Touch the cover you'd like to read and it will download. The most current issue is top left in your library.
For fastest downloading of issues, it is best to turn off your 3G and use a wireless connection. Your 3G may load 10 times slower.


Request Electronic Delivery Only
Want to save a tree? You can choose the electronic-only option by updating your TOS member profile or by sending a message to [email protected]